Inloggen
Als u een account bij ons heeft, meld u dan aan.
Registreren
Door een account aan te maken in deze winkel kunt u het betalingsproces sneller doorlopen, meerdere adressen opslaan, bestellingen bekijken en volgen en meer.
Account aanmaken
Callaway Chrome Soft X White Golfballen met logo bedrukken
Koop 24 dozen (288 ballen) voor

€45,74

per stuk en bespaar

2%

Koop 48 dozen (576 ballen) voor

€45,01

per stuk en bespaar

3%

Koop 72 dozen (864 ballen) voor

€44,29

per stuk en bespaar

5%

Koop 96 dozen (1152 ballen) voor

€43,56

per stuk en bespaar

6%
Callaway Chrome Soft X Golfbal

Prijs per bal (excl. btw)
| | | | | |
| --- | --- | --- | --- | --- |
| 144 ballen | 288 ballen | 576 ballen | 1152 ballen | 1728 ballen |
| € 3,20 | € 3,15 | € 3,10 | € 3,05 | € 3,00 |

Logo bedrukkingen:
Logo instelkosten zijn gratis bij Hannon Sport.
Neem contact met ons op indien je 2 of 3 logo's wil bedrukken of indien er andere specifieke wensen zijn.
Het is mogelijk om verschillende soorten golfballen te combineren.
Maximale groottes:

Doorsnee cirkel: 22 mm
Vierkant: 18 mm
Rechthoek 28x10 mm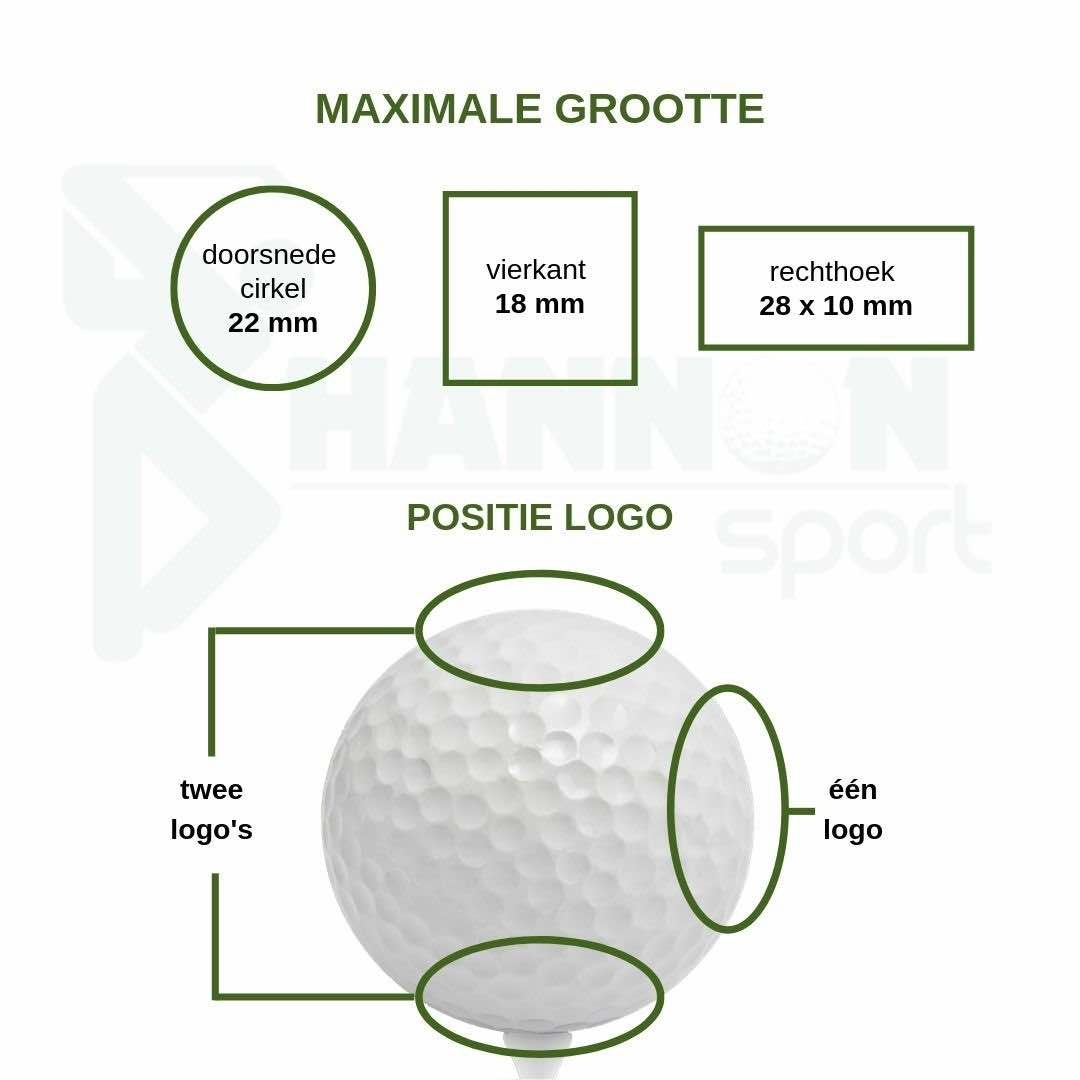 Large SoftFast Core Increases Speed and Distance
High speed core design is significantly larger for increased ball speed and distance through the bag. This core also works with the mantle system to deliver the highest resilience and speed.
Maximum Ball Speed and Consistent Spin From A New High Speed Dual Mantle System
An entirely new mantle system for increased ball speed. The Soft Inner Mantle and a highly resilient Firm Outer Mantle work together to generate increased ball speed off the club face. This innovative system is specifically created to increase total distance.
Exceptional Feel and Spin Control from A New, Thinner Urethane Cover
Extremely durable, resilient, and thinner cover material increases ball speed and creates lower spin on full shots, while maintaining high spin and control around the green.
Longer Distance and Consistent Trajectory From New Optimized Aero Design
Reduces drag for increased overall distance, with a consistent, penetrating ball flight for optimum trajectory.
Which Ball Should You Play?
Chrome Soft: Increased Distance, Consistent Ball Flight, Incredible Feel & Control, Optimized Aerodynamics
Chrome Soft X: Fast Ball Speed & Distance, Increased Workability & Spin Control, Great Feel, Optimized Aerodynamics
0 beoordelen
0 sterren op basis van 0 beoordelingen
Je beoordeling toevoegen
Beoordeel Callaway Chrome Soft X White Golfballen met logo bedrukken